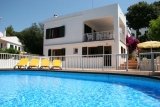 Villa
Bedrooms 3 / Bathrooms 1 / Sleeps 0
Licensed for Tourism
Casa Galdana 3 bed is situated in one of the better established residential areas of Cala Galdana - five minutes walk to the beach and fifteen minutes to the centre of the resort...
Your Self Catering in Cala Galdana Menorca,Spain
Menorca for Couples and younger families alike is a destination with some surprises
Cala Galdana
Nicknamed "Queen of the Calas" and situated on the south-coast, Cala Galdana has one of the most beautiful resort beaches on the island. Pine-clad cliffs enclose a large horseshoe bay with turqouise waters and gently shelving beach.Family oriented holiday resort, with beautiful surrounding countryside to explore and good watersports and boating trips.